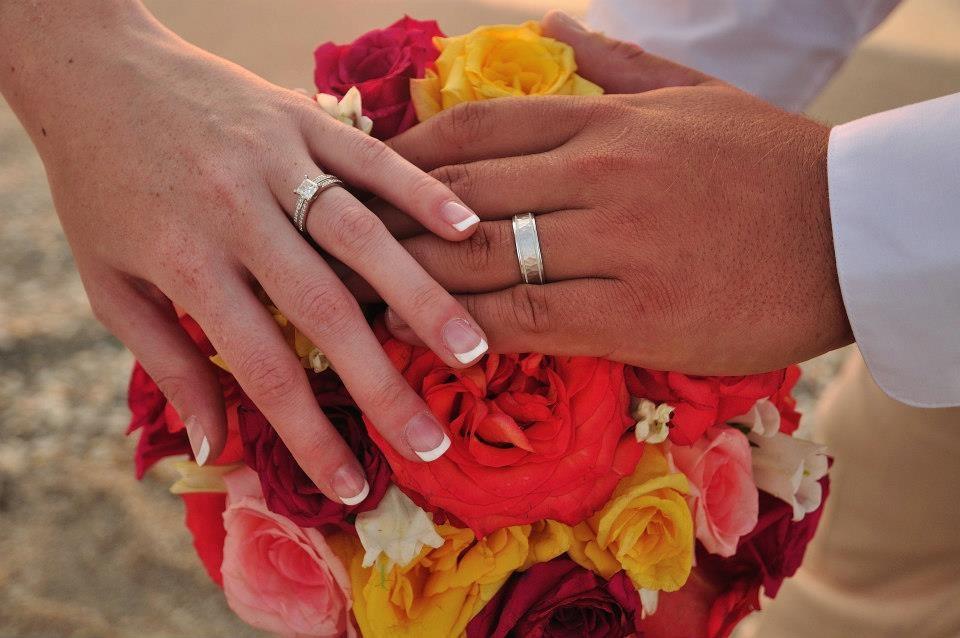 On Saturday, my fiancé Greg and I finally got to pick out our wedding bands. I say "finally" because I have been so excited to take him to Robbins Brothers after I went down to the Woodland Hills store solo earlier in the summer to scope out bands for myself. So, it felt like I was waiting forever even if it was just a few months!
When we got to the store the manager, David, who was so incredibly helpful during my first visit, greeted us. I felt lucky to get the opportunity to work with him again and get his advice on which rings would be best for us.
Being the gentleman he is, Greg let me go first to start the ring-choosing process. On my last visit, I had picked three options for my band but, when David showed them to me, I realized that my concept of what I wanted had completely changed! Was not expecting that! However, David was so patient with me and selected some other options for me to decide between. (So, a tip for the ladies out there choosing their bands—take your time and maybe do a couple store visits before making your final decision just in case!)
In the end, I chose what I believe is the perfect wedding band: A delicate, super-skinny pave ring of diamonds that goes almost three-fourths around my finger. It will sit just slightly off my engagement ring so each piece of jewelry is distinct. Plus, I can wear the band to the gym or when I travel and still rock a bit of bling. I couldn't be happier with my final choice—even if it wasn't what I initially picked out.
But there were more surprises to come: When it was Greg's turn, I thought he would go right for the titanium bands—not only are they affordable but they are strong. As in, strong enough to open a beer bottle. Yes, my fiancé wanted a ring that he could use to pop open his favorite IPA. Gotta love him, right?
However, when it come to fit, quality, comfort, and style, he went a totally different direction: Greg ended up choosing a sturdy, brushed white gold band—a very manly ring, if I do say so myself. David, again, was so helpful in showing us the difference among the metals and really guided Greg as far as what kind of ring would best fit his lifestyle—guys, I strongly suggest chatting with David before you choose a ring!
In the end, I love the ring Greg chose, not only because he won't be showing off his ability to crack open a beer with it (white gold is too delicate for that!) or because I think it looks fabulous on him, but because our rings are of the same metal. I'm a fan of coordination, what can I say?
All in all, the ring process took less than 30 minutes, another surprise since I expected us to mull over the decisions for a while. Though, at Robbins Brothers, everything is so easy, hassle-free, and, best of all, fun. (Right after our ring shopping, Greg and I actually visited another, chain jewelry store to replace a lost earring in a set he had bought for me years ago and we found ourselves missing David and the Robbins Brothers way of doing business immediately—we couldn't believe the difference between our two experiences!)
Choosing wedding bands is a huge deal and I am both happy and sad that the process is over: Happy because Greg and I have amazing new pieces of jewelry that we get to wear forever (!!!!) and sad because now we don't have a reason to go back to Robbins Brothers and look at rings!
Though, Greg says he's keeping David's card handy—we certainly know where we'll be going for all of our future jewelry purchases, that's for sure.
Relationship expert Natasha Burton is the author of three books: 101 Quizzes for Couples, 101 Quizzes for BFFs, and The Little Black Book of Big Red Flags. When she's not writing, she's likely doing yoga, baking, or watching The Bachelor.
Latest posts by Natasha Burton (see all)