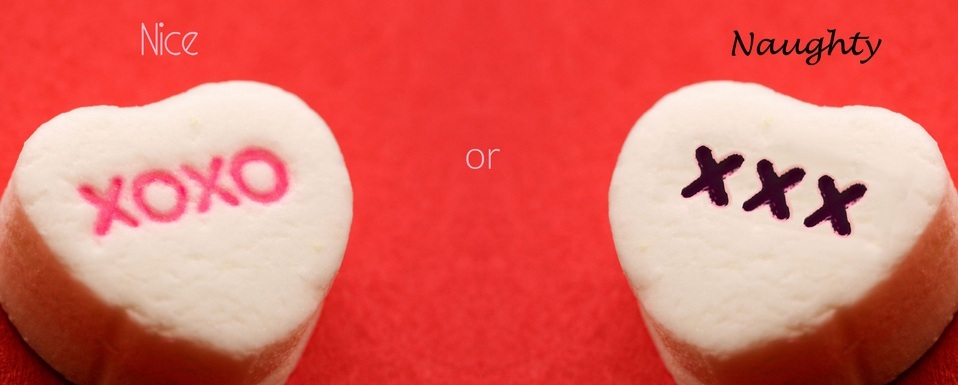 I don't know about you guys, but I find that in the midst of wedding planning, it's not so easy to find time for passion. The romantic moments my guy enjoyed pre-engagement can often take a backseat to seating charts, picking out music and all of those other details you can't escape when preparing for the big day. Not. Cool.
With Valentine's Day just around the corner (yes, already!), I decided that the holiday will be the perfect time to introduce some spice back into my relationship — because, really, my last V-Day as a non-married woman should be at least a little more special than the previous ones, right?
For those of you also looking to up the ante this Valentine's Day with your fiancé, here are some fun, flirty ideas to get you started. Enjoy, ladies!
1. The Fantasy Box
You may have heard of Birchbox, which delivers beauty samples to your door every month, not to mention a slew of similar subscription services. Of all of them, this is the one you should sign up for: With The Fantasy Box, you and your guy get themed goodies to spice up your love life each month. (If you so choose, the company offers less frequent packages, too.)
2. A Boudoir Shoot
Doing a saucy photo-shoot has become somewhat of a new standard for brides-to-be. But why wait until the day of your wedding to give your guy this gift? Book a sitting with a skilled photographer for a boudoir shoot, or even a tamer, but still gorgeous, glamour shoot. (Your wedding photographer may even offer these services — mine does!) Not only will you reconnect with the feistier side of yourself, you'll have some gorgeous snaps to show your hubby-to-be.
3. RevolutionWear's FRIGO Boxer Briefs
Lingerie is a tried-and-true Valentine's Day gift. But, why should us ladies be the only ones who get to parade around in sexy style? Pamper your man with RevolutionWear's FRIGO line of men's undies — they're basically boxer briefs that are actually comfortable, supportive and completely breathable. Which means that your fiancé will actually want to wear them. Oh, and did I mention that these briefs are also super sexy? They're a major score for those of us who love a man in figure-hugging underwear, but can't get our man to part with his ratty old boxers.
4. Emily & Tony Massage Candles
Brides and grooms-to-be can certainly use a good rubdown amid the stress of wedding planning. Go the extra mile with this new line of massage candles devised by a sexpert (Emily Morse) and a beauty guru (Anthony Sosnick). They not only smell amazing (yep, I have one!) but the "wax" melts into a warm, delicious body butter. These candles are the perfect addition to your Valentine's Day plans, but I would suggest using them as often as possible to keep you and your fiancé nice and relaxed leading up to the big day.
5. Craftsy Class
Learning a new skill together is a great way to bond and rekindle your passion — plus, it can really take your mind off the stress of where the heck you're going to sit old Uncle Erwin at your reception. Check out the line-up of online cooking classes available on Craftsy.com — I'm partial to Homemade Italian Pasta and Thai Cooking Essentials, personally — then grab your ingredients and start heating things up in your kitchen (literally and, hopefully, figuratively).
Relationship expert Natasha Burton is the author of three books: 101 Quizzes for Couples, 101 Quizzes for BFFs, and The Little Black Book of Big Red Flags. When she's not writing, she's likely doing yoga, baking, or watching The Bachelor.
Latest posts by Natasha Burton (see all)