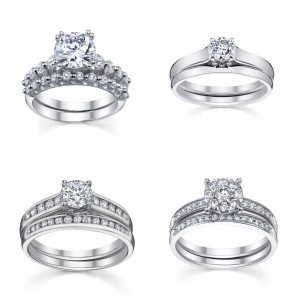 A couple weeks ago, I visited the Robbins Brothers Woodland Hills store to start looking for my wedding band (!!!!). Growing up in the Valley, RB is the spot to get your wedding bling, so I was so excited to try on some gorgeous rings.
I was lucky enough to have the store manager, David Lee, take me around the many cases and share some of his wisdom. Here are just a few of the essential tips I learned:
1. Decide if you think you'll ever want to wear your wedding ring by itself. David showed me so many amazing options for bands, including ones with a little curve or U-shape to accommodate my solitaire engagement ring. While they looked amazing when paired with my existing bling, I didn't love them on their own. For ladies who know they always want to wear both rings together, these options are perfect. But for women like me, who may just want to wear their wedding bands solo (like, while going to the gym or traveling), going with the standard shape might be best.
2. Check the height. I'd looked at bands online and knew I wanted small diamonds going halfway around my finger. But one of the logistics I didn't think of was how high the setting would need to be to work with my engagement ring. Some rings were too high and hit my diamond, while others looked too short—which is why I think it's essential to actually go into a store and try on wedding bands with your existing ring. Another reason: You want to make sure the rings won't rub against each other in a way that will damage your engagement ring setting or the stone itself. Some rubbing will happen, but height is a huge factor in determining if it will be an issue.
3. Note the band shapes. My engagement ring band is curved, so I want my wedding band to be slightly curved as well. However, from my online searching, I found that most wedding bands are flat…um, cue panic mode! Luckily, David told me that the on-site jewelers at Robbins Brothers can actually turn a flat band into a curved one, if needed. So, if you see a ring you love, but the band shape isn't quite right, don't rule it out (or freak out!). Instead, check to see if it can be modified to fit your needs.
4. Bigger isn't always better. I feel totally sacrilege for saying this but, when it comes to my wedding ring, I'm erring on the side of fewer carats. (No, I promise I'm not crazy.) Here's why: My engagement ring is stunning and I don't want my band to overpower it. (After all, my guy worked so hard both to pick it out and to pay for it.) So, for me, smaller diamonds make sense. Personally, I prefer to let my engagement ring be the star of my left hand, but other ladies might feel differently.
5. Choose something timeless. Again, this might be a personal preference, but my biggest concern when choosing my band is making sure it's something I will love even when I'm 35, 55, 85, and so on. While I've been tempted to look into different stones or metals (I am obsessed with rose gold, for example), I keep reminding myself that this ring isn't the last piece of jewelry I will ever buy—but is it something I will be wearing every day for (hopefully) the rest of my life. So, if you want to be bold and do something different because that's your personality, go for it. But don't choose your wedding ring based on trends. That's what anniversary jewelry is for!
Relationship expert Natasha Burton is the author of three books: 101 Quizzes for Couples, 101 Quizzes for BFFs, and The Little Black Book of Big Red Flags. When she's not writing, she's likely doing yoga, baking, or watching The Bachelor.
Latest posts by Natasha Burton (see all)