Wait.. 2008? That's right. Beyonce was married three years ago and she JUST revealed a sneak peek of her wedding dress! No, it's not a professional photograph, no it's not even on a mannequin. No, it wasn't a ten page feature in US Weekly. A few days ago, Beyonce released a very nostalgic video for the song, "I Was Here (Live at Roseland)". The very moving Vevo music vid included very intimate looks into her life through home videos, monumental achievements, memorable moments and some are just the everyday life of Beyonce. One of the scenes included her fitting into her glamorous wedding gown (without make up)! Never to have been revealed before, here is a screenshot of it: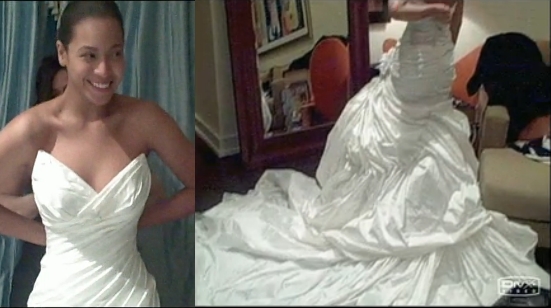 Now.. there's something to be said here about how Beyonce handled her own wedding. Doesn't it seem like every other celebrity has a televised wedding special? I'm starting to wonder if there is some sort of correlation between a televised wedding special and divorce. I seriously give Beyonce brownie points for not going down the cashcow route. What Beyonce did here was so raw, intimate and so.. REAL. Something that's hard to find in Hollywood, now a days.
Anyway, with that said.. her dress? Sooo glamorous! Check out all that cascading fabric. The wedding of JayZ and Beyonce took place three years ago, in 2008 and details has never been revealed to the public (I think some celebrities need to take notes *ahem*..KimK *cough*). Watch the entire video of "I Was Here", it's so inspiring and amazing… What else can you expect from Beyonce? Be sure to grab a tissue.
So, what do you think of her wedding dress choice? Do you hope that she'll reveal other wedding details later on?