I know that most people hate Christmas music blaring on the radio and the crowded malls, but I absolutely love it. Christmas is my favorite time of year and I actually start listening to Christmas music before Thanksgiving! What else gets me in the mood for Christmas? Romance! Here are a few of my favorite holiday marriage proposal videos: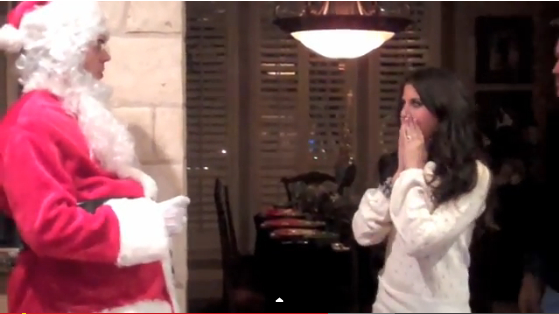 Ah, the old toast in front of the family. I love this proposal because it always catches the unsuspecting person off guard with the whole, "What are you doing.. you're giving a toast??"! Also, I spy with my little eye.. a Robbins Brothers lighted ring box!
A proposal could have come straight from an episode of Glee. This sweet All I Want For Christmas Is You proposal was too cute to pass up! And the students helped sing along! This teacher gets an A+!
This sweet sweet man drove 10 hours to surprise his then-girlfriend with a marriage proposal! The scene was set when he sent her a box of gifts and had created a video for her. Check out the surprise:
This cute silly couple is just adorable and her reaction to the ring… priceless. Santa Clause brings a surprise for an unsuspecting someone:
Do you have any holiday proposal vids we just have to see? Share with us in the comments!