Engagement Date  September 28, 2014
Wedding Date  TBD
How did you two meet?
We met in high school.
How did you propose?
I proposed to her at the final Seattle Mariners game of the season at Safeco Field. After the game I brought her down the stairs close to the field for pictures with my family and friends (about 15 close friends and family). And then afterwards got on one knee in the aisle and had the engagement box inside a cut-out baseball! Also with 2 dozen red and pink roses my friend helped me deliver.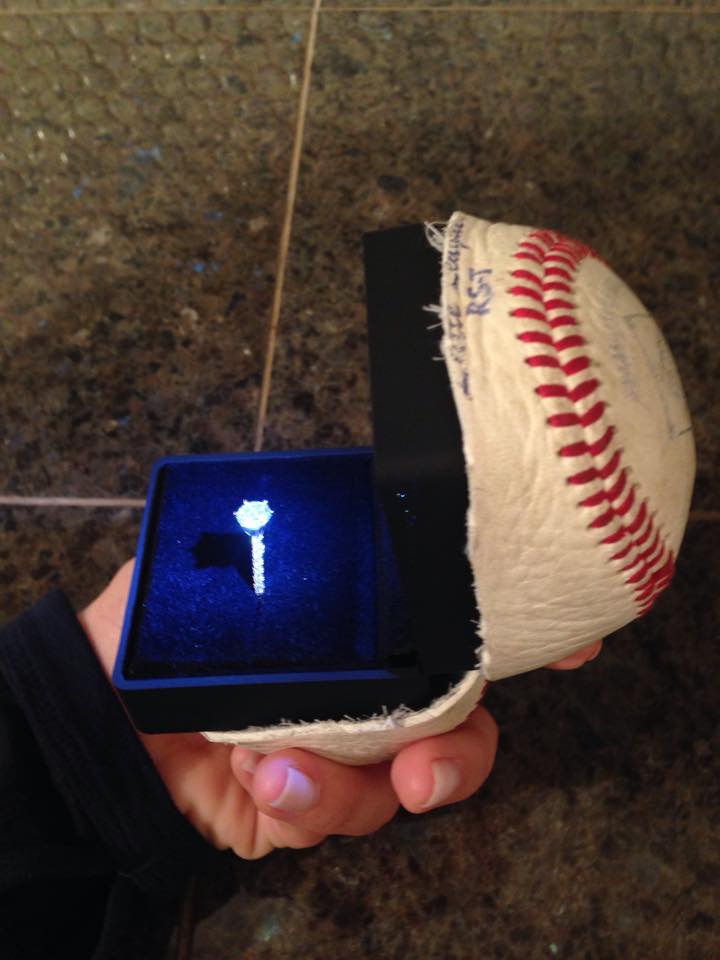 What does she love most about her engagement ring?
She loves the simplicity of the round solitaire. She also is a big advocate of the 6-prong placement, she feels it showcases the 1 carat colorless diamond even more! It's something she will never get tired of looking at and it'll never go out of style! Our grandchildren will agree how beautiful it is even 50 years from now.
I bought it from the Woodland Hills, CA store while on vacation, but then had it shipped to our home near the Seattle, WA downtown store and picked it up there while on a lunch break. I proposed on the 28th of the month because 28 is a special number to us. Having both our birthdays on the 28th of our months, so it was fitting for this to be the same for the engagement and hopefully the wedding too!
Wade and Jessi, welcome to the Robbins Brothers Family! Best Wishes for a Happy Engagement! Enjoy every single moment of it. xoxo