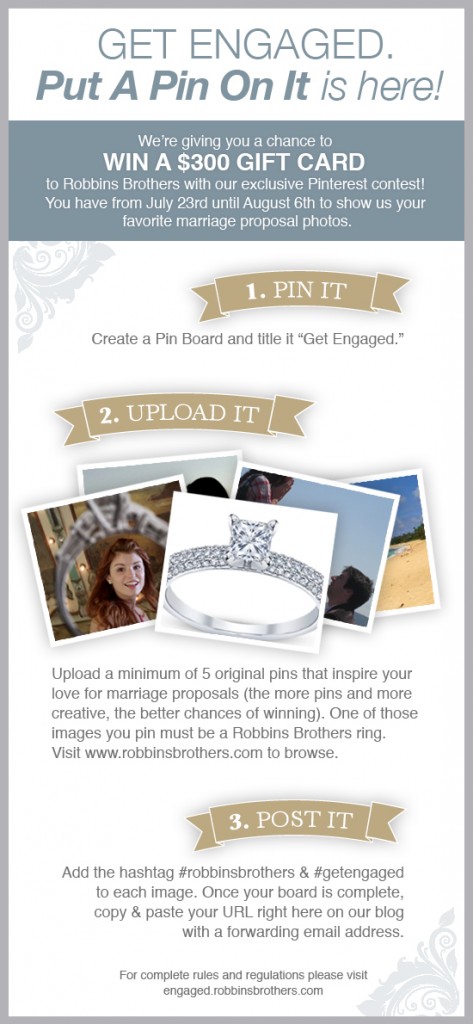 How to Enter
Step 1) Follow Robbins Brothers on Pinterest– http://pinterest.com/robbinsbrothers
Step 2) Create a Board called "Get Engaged"; PIN THE "CONTEST" IMAGE TO YOUR BOARD!! Add Pins that inspire your love for marriage proposals, and be sure to pin rings from RobbinsBrothers.com
Step 3) Include the Hashtag #RobbinsBrothers and #GetEngaged on every Pin that you post to your "Get Engaged" board and include your board's URL right here in this blog post–http://engaged.robbinsbrothers.com/robbins-brothers-exclusive-pinterest-contest-put-a-pin-on-it/
Grand Prize: (1) $300 Gift Card to Robbins Brothers
RULES:
No purchase necessary. Contest is open to legal residents of the fifty (50) United States and Washington, D.C. who are over the age of eighteen (18), except for residents of Puerto Rico, employees of the sponsor(s) and its/ their subsidiaries and affiliates, advertising and promotional agencies and their immediate families. This contest opens on Monday, July 23, 2012, and closes on Monday, August 6, 2012 at 11:59 PM PST.
CONDITIONS:
a. Any attempt to deliberately damage any website or to undermine the legitimate operation of this Contest is a violation of criminal and civil laws and, should such an attempt be made, Robbins Brothers reserves the right to seek remedies and damages to the fullest extent permitted by law, including criminal prosecution.
b. Entries are subject to verification and will be declared invalid if they are illegible, incomplete, mechanically reproduced, mutilated, forged, falsified, altered or tampered with in any way.
Conduct:
Robbins Brothers reserves the right, in its sole discretion, to disqualify any Entrant it finds to be:
(a) tampering or attempting to tamper with the entry process or the operation of the Contest or the Contest website;
(b) violating the Contest Rules;
(c) violating the terms of service, conditions or use and/or general rules or guidelines of any Robbins Brothers property or service, or
(d) acting in an unsportsmanlike or disruptive manner, or with intent to annoy, abuse, threaten or harass any other person.
*NO PURCHASE NECESSARY. One Grand Prize Winner will receive a $300 Gift Card to Robbins Brothers. Void wherever prohibited by law.
Complete Rules & Regulations
The rules provided below ("Promotion Rules") are the rules for the Robbins Brothers "Get Engaged" contest ("Promotion"). You accept the Promotion Rules by submitting any content or information (collectively "Materials") to be considered for the Promotion. If you do not have legal authority or do not agree with the Promotion Rules, you may not participate in the Promotion and will not be eligible for any award or prize. Robbins Brothers reserves the right in its sole discretion to alter any of the Promotion Rules at any time.
NO PURCHASE OR PAYMENT NECESSARY TO ENTER OR WIN. A PURCHASE OR PAYMENT OF ANY KIND WILL NOT INCREASE YOUR CHANCES OF WINNING.
1. Eligibility
The Promotion is open to legal residents of the fifty (50) United States and Washington, D.C. (excluding Puerto Rico), who are over the age of eighteen (18) in their jurisdiction of residence. Entries are limited to individuals only, commercial enterprises and business entities are not eligible. There is no purchase necessary to enter or to win the Promotion. A purchase will not improve your chances of winning the Promotion. You must be a member of the social media site on which the Promotion is being conducted in order to participate. The officers, directors, and employees of Robbins Brothers, and/or any other party having responsibility for the development or administration of this Promotion, including the immediate family members (i.e., parents, children, siblings, spouse) of the foregoing, are prohibited from entering the Promotion. Any violation of the Promotion Rules may result in disqualification.
2. Promotion Period
The Promotion begins on Monday, July 23, 2012 and ends on Monday, August 6, 2012 at 11:59 PM PST (the "Promotion Period"). All entries must be received during the Promotion Period in order to be eligible for a Promotion award or prize.
3. How to Enter
To enter, during the Promotion Period
Step 1) Follow Robbins Brothers on Pinterest– http://pinterest.com/robbinsbrothers
Step 2) Create a Board called "Get Engaged"; add Pins that inspire your love for marriage proposals, and be sure to pin rings from RobbinsBrothers.com!
Step 3) Hashtag #RobbinsBrothers and #GetEngaged on every Pin that you post to your "Get Engaged" board.
Multiple entrants are not permitted to share the same email address. Use of any script, macro or automated system to participate or subvert the entry process is prohibited and will result in disqualification and all associated entries will be void. Released Parties (as defined below) are not responsible for lost, late, incomplete, invalid, unintelligible, inaccurate, stolen, delayed or misdirected entries, all of which will be disqualified. In the event of a dispute as to any entry, the authorized account holder of the email address used to enter will be deemed to be the entrant and must comply with the Promotion Rules. The "authorized account holder" is the natural person assigned an email address by an Internet access provider, online service provider or other organization responsible for assigning email addresses for the domain associated with the submitted address. Potential winner may be required to show proof of being the authorized account holder.
4. Winner Selection / Notification
The Materials meeting all eligibility requirements and chosen at random shall constitute the winner of the Promotion (individually referred to as "Winner" and collectively as 'Winners"). There will be a maximum of 1 prize and a maximum of one Winner per prize. One Winner will receive a $300 gift card to Robbins Brothers.
All federal, state, provincial, territorial and/or local income and other taxes, if any, are Winner's sole responsibility. Robbins Brothers shall not have any obligation to pay any taxes related to awarding the prizes or notify any Winner of any tax obligation(s).
The winner will be chosen at random and will be notified shortly following the August 6 closing date of the sweepstakes ("Decision Date"). Robbins Brothers will make every reasonable effort to contact the winner via email. The notified winner must respond within three days (72 Hours) from the Decision Date to be eligible for a prize. If any winner does not respond within that time, the winner forfeits all rights to the prize and an alternate winner may be selected. Winners must meet all eligibility requirements and comply with all the Promotion Rules as described herein. Robbins Brothers will determine whether each winner meets those requirements only for those winners who have responded within the time allotted after the Decision Date as specified above. Winners who do not meet all eligibility requirements and who do not comply with the Promotion Rules as described herein may be disqualified and alternate winners may be selected.
If, in Robbins Brothers' opinion, there is any suspected or actual evidence of fraud, electronic or non-electronic tampering or unauthorized intervention with any portion of the Promotion, or if fraud or technical difficulties of any sort (e.g., computer viruses, bugs) compromise the integrity of the Promotion, Robbins Brothers reserves the right to void suspect entry and/or evaluations and/or terminate the Promotion and award the prize in its sole discretion. Furthermore, Robbins Brothers reserves the right to disqualify entrants for any act they deem as cheating.
5. Entry Conditions and Release
Entrants are solely responsible for their own actions and agree to defend, indemnify and hold harmless Robbins Brothers, subsidiaries, affiliates, suppliers, distributors, advertising/promotion agencies and divisions and the officers, directors, employees, agents, successors, assigns and licensees from and against any claim or cause of action, any liability for losses, damages or injuries arising in connection with their participation in the Promotion or the award of a prize, including, but not limited to, personal injury, death or damage to or loss of property, arising out of participation in the Promotion or receipt or use or misuse of any prize or participation in any Promotion related activity and for any claims based on publicity rights, defamation or invasion of privacy. You acknowledge and agree that any Materials you submit may be made available by Robbins Brothers for viewing, rating and commenting by the public. You acknowledge that comments or ratings that you disagree with or are not content about may be published or otherwise become associated with Materials that you submit to Robbins Brothers. By submitting Materials to Robbins Brothers, you waive any privacy expectations that you may have with respect to the Materials.
This promotion is in no way sponsored, endorsed or administered by, or associated with, Pinterest. You understand that you are providing your information to Sponsor (Robbins Brothers) and not to Pinterest.
6. Publicity
Except where prohibited by law or regulation, you grant Robbins Brothers permission to use your name, username, online alias, likeness and statements for any purpose in reference to the Promotion without additional compensation, consideration or consent for advertising and promotional purposes in any and all media, now or hereafter devised, worldwide in perpetuity.
7. Disclaimer
Entries that are lost, received after the Promotion Period, misdirected, incorrect, garbled, or incompletely received, for any reason, including by reason of hardware, software, browser, or network failure, malfunction, congestion, incompatibility or technical errors occurring on any social media site on which the Promotion is conducted will not be eligible for consideration in the Promotion. Entries will be deemed submitted by the authorized account holder of the e-mail address submitted at the time of entry. Robbins Brothers, in its sole discretion, reserves the right to disqualify any person that it determines has tampered with the entry process, the integrity of the selection process, or the operation of the Robbins Brothers Pinterest Page. Use of bots or other automated process to enter Promotion is prohibited and may result in disqualification at the sole discretion of Robbins Brothers. Robbins Brothers further reserves the right to cancel, terminate or modify the Promotion at any time without prior notice if any fraud, technical failures or any other factors beyond Robbins Brothers' reasonable control impairs the integrity or proper functioning of the Promotion, as determined by Robbins Brothers in its sole discretion, and/or to select a winner for the prize from eligible Materials received prior to the cancellation.

A hopeful romantic and enthusiastic UCLA grad, Tracey serves as Robbins Brothers' Social Media and PR Manager. For leisure she enjoys shopping, dancing, hosting parties for family & friends and staying abreast of the latest celebrity news.

Latest posts by Tracey Lyles (see all)