Why wait? Propose to him!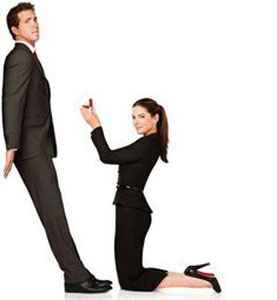 Back in the old days, women were permitted to propose on February 29th in the leap year. Back then women were also expected to do the cooking, cleaning, sock darning and wear corsets! Now, women, the rule is that there are no rules. Go ahead and ask him to marry you! Surprise him! You can buy him a wedding ring with a single diamond. Even 1/5th of a carat will do – he doesn't care if the ring has the bling unless he's a rap star or pro athlete. Just make sure you do it with style. After he says yes, you can head to the engagement ring store with your dreamy guy and pick out your dream ring.
You certainly won't be the first. Ex-Spice Girl Victoria "Posh" Adams gave soccer-legend David Beckham a "male engagement ring" after he proposed to her with a 3-carat marquise diamond. (David's ring is a white gold and pave diamond ring – too flashy for most guys, but perfect for his bigger-than-life personality.)
And there's no need to ask his mother's permission for his hand in marriage.
10 Ways to Propose to Him
1. Sports fan? Arrange a VIP tour at his favorite ball park, with your proposal on the infield or under the scoreboard.
2. Enjoy cocktails? Take him to his favorite watering hole, with your proposal on the drink coaster.
3. Work with your local cable access TV station and put together a 30 second proposal.
4. Create a Facebook or Twitter page with your marriage proposal.
5. Take your love on the road with a "Mobile Billboard Proposal."
6. If he has a dog, tie a little note around his leash with your marriage proposal.
7. Call his favorite radio station and ask to have the DJ will read your proposal.
8. Draw up a map of the places in town that have special meaning to you, and send him on a scavenger hunt, with your proposal at the end and his ring in a treasure chest.
9. Work with your local independent movie theater to put your proposal up on the big screen before a movie he'd love to see.
10. Surprise him with a home-cooked meal and a promise to be his one-and-only for life.