By guest blogger Natasha Burton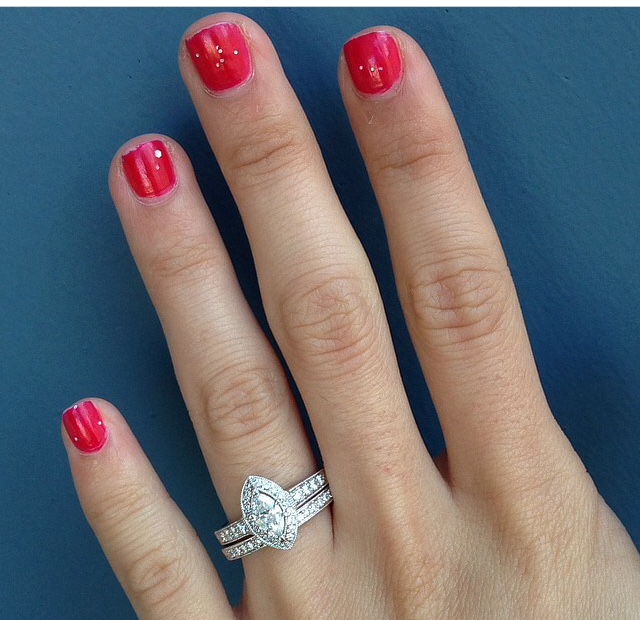 Well before I met my husband, I was enthralled with the idea of wearing a wedding ring. (Paired perfectly with an equally lovely engagement ring, of course.) I've never been the type to get all starry-eyed over jewelry, but these rings were different. They meant something–more than I could know when I was single and just excited about the future prospect of someone wanting me to be his wife.
Now that I'm married (almost three months!) I look down at my left hand more than I care to admit. I'm almost surprised to see that sparkle on my ring finger–even though I was engaged for over a year and a half before I took my trip down the aisle. (Hopefully I'm not alone here?) These are the top five places I catch myself checking out my own rock.
1. In the car
The sunlight coming through the windows and windshield amplify the sparkle factor of my bling—how can I not take a peek?!
2. While making dinner
Really, during any lull in my daily life, when I'm paused or waiting for something (a pot to boil, for instance), I catch myself examining my ring. Hey, it's the most interesting thing to look at.
3. On my couch
Yep, sometimes I'm just vegging out with my HGTV and I find myself glancing down at my rings. You know, just making sure they're still there. Sometimes I even poke my husband and ask him how awesome my rings look today. Rhetorically, of course.
4. In yoga class
While I was engaged, I committed myself to finishing 300 workouts (of 30 minutes or more) in one year as a way to get in shape for my big day–and to form a healthy habit I could stick to for the rest of my life. I'd look down at my rock for motivation, when needed, which was quite often. Even now, I find myself using my ring as my focal point when I'm holding an uncomfortable yoga pose. (Thinking: "After this class, I can sit on my couch and watch HGTV with my husband.")
5. When I spy another woman's rock.
Look, we all do it. (Right?!) Every time I catch sign of another woman's wedding or engagement ring (or both), I peep back at my own. I can't help it.
Natasha Burton is a relationship author, freelance writer and editor.