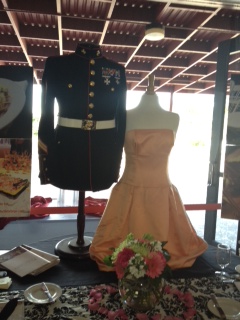 It was my day off and I had to wake up at 4:30am on a Sunday when I'm usually in dreamland; then I hit the road headed from LA to San Diego only to encounter several freeway closures (ahhh! darn construction!). Finally made it to my destination safe and sound and I'm not complaining at all because it was well worth it!!! (No it really was. Not kidding.)
I had the chance to work an amazing event for the second year in a row: The Annual Ball Gown Giveaway at Miramar's military base. It was so much fun being around Marines and their significant others as the ladies chose either a free ball gown for the upcoming Marine Corps Ball or a wedding dress. But the highlight of the morning?? You got it…a surprise marriage proposal by our San Diego customer Sergeant Arthur Rabago.
Watch how Sgt Rabago surprised the love of his life Shayna with one of the sweetest proposals I've seen in a while. Congrats to the lovely couple!!!

A hopeful romantic and enthusiastic UCLA grad, Tracey serves as Robbins Brothers' Social Media and PR Manager. For leisure she enjoys shopping, dancing, hosting parties for family & friends and staying abreast of the latest celebrity news.

Latest posts by Tracey Lyles (see all)