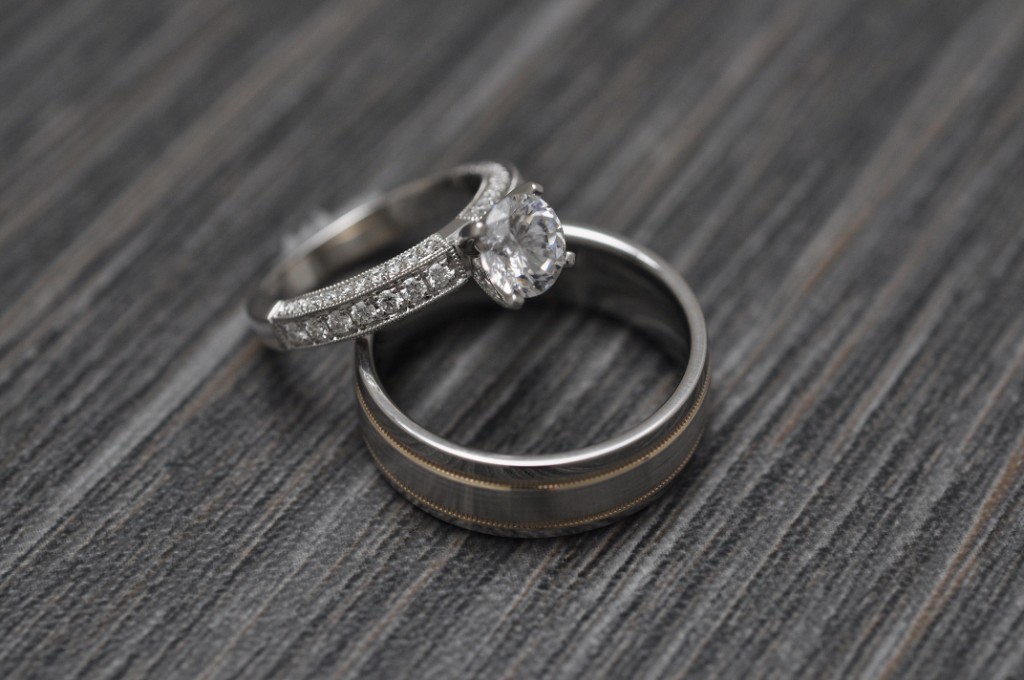 As of this week, I've been engaged for a year. And I still have a while to go — seven months and change until the big day arrives. To some people, this might seem like a ridiculously long engagement but, for me, having just less than 18 months to plan every detail has been a relief. At this point, I really just have to finalize the menu, go with my fiancé to get his suit, and, well, show up.
Yes, even with more than half a year to go, we already have our wedding bands. (Which the lovely David Lee at the Woodland Hills store helped us pick out, I must add!)
The rings are sitting in their snap-close boxes, in their Robbins Brothers' boxes, in our shared closet on a shelf that holds the rest of my jewelry and sunglasses. I know these specifics not only because I'm slightly concerned about misplacing our rings with so much time before our wedding but also because I can't stop thinking about them.
You guys, I am dying to wear my wedding ring.
I know, I know, I'm going to wear it for the rest of my life so what's the rush, right? And I'm sure it's some sort of bad luck to wear your wedding ring before the ceremony. But the thought of my delicate, pretty pave band confined to its dark box-within-a-box makes me want to rescue it from its lonesome existence and slide it right on my ring finger.
Plus, I'd love to be able to wear it just out of convenience: My solitaire engagement ring isn't the best thing to wear to the gym or while making dinner. My more subtle wedding ring? Much better.
Once a day, I'll take it out and try it on just to, you know, remind myself how it looks on my finger. I know that, once it's on, it's on forever. And maybe it's because my fiancé and I have been engaged for what feels like a long time now, but I'm pretty ready for forever to start already.
Relationship expert Natasha Burton is the author of three books: 101 Quizzes for Couples, 101 Quizzes for BFFs, and The Little Black Book of Big Red Flags. When she's not writing, she's likely doing yoga, baking, or watching The Bachelor.
Latest posts by Natasha Burton (see all)